Historical Art PhotoNews Posters
Circa 1946 - 1952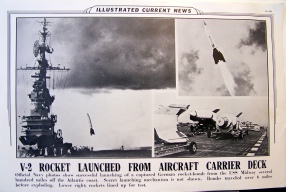 V-2 Rocket Launched
From Aircraft Carrier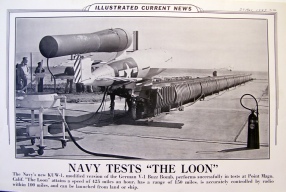 Official Navy photos show successful launching of a captured German rocket-bomb from the USS Midway several hundred miles off the Atlantic coast. Secret launching mechanism is not shown. Bombs traveled over 6 miles before exploding. Lower right: rockets lined up for test.
The Navy's new KUW-1, modified version of the German V-1 Buzz Bomb, performs successfully in tests at Point Magu, Calif. "The Loon" attains a speed of 425 miles an hour, has a range of 150 miles. is accurately controlled by radio within 100 miles, and can be launched from land or ship.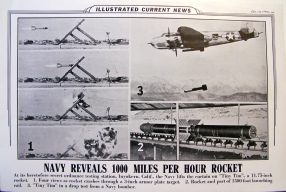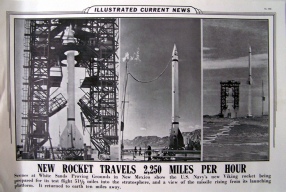 Navy Reveals 1000 Miles
Per Hour Rocket
New Rocket Travels
2,250 Miles Per Hour
At its heretofore secret ordnance testing station, Inyokem, Calif., the Navy lifts the curtain on "Tiny Tim", a 11.75-inch rocket. 1. Four view as rocket crashes through a 3-inch armor plate target. 2. Rocket and part of 1500 foot launching rail. 3. "Tiny Tim" in a drop test from a Navy bomber.
Scenes at White Sands Proving Grounds in New Mexico show the U.S. Navy's new Viking rocket being prepared for its test flight 51-112 miles into the stratosphere, and a view of the missile rising from its launching platform. It returned to earth ten miles away.