Historical Art PhotoNews Posters
Circa 1946 - 1952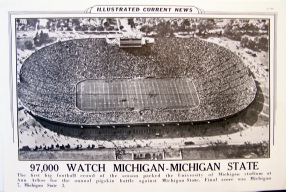 97,000 Watch Michigan-Michigan State
Army-Navy Tie In Series' Greatest Game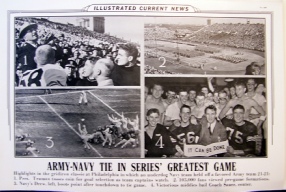 The first big football crowd of the season packed the University of Michigan stadium at Ann Arbor for the annual pigskin battle against Michigan State. Final score was Michigan 7, Michigan State 3.
Highlights in the gridiron classic at Philadelphia in which an underdog. Navy team held off a favored Army team 21-21: 1. Pres. Truman tosses coin for goal selection as team captains watch. 2. 103.000 fans viewed pre-game formations. 3. Navy's Drew, left, boots point after touchdown to tie game. 4. Victorious middies hail
Coach Sauer, center.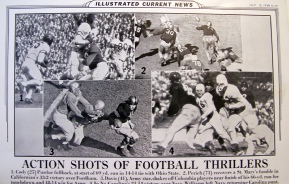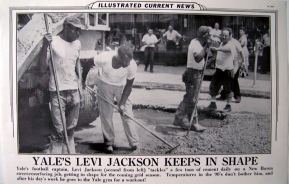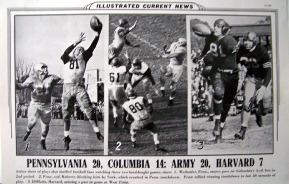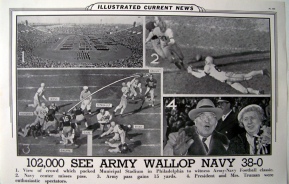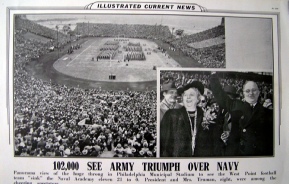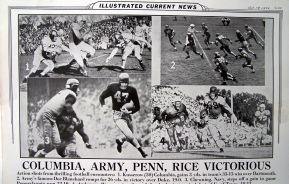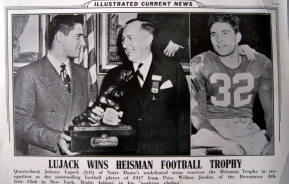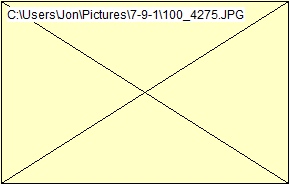 Action Shots Of Football Thrillers
Yale's Levi Jackson Keeps In Shape
Pennsylvania 20, Columbia 14;
Army 20, Harvard 7
102,000 See Army Wallop Navy 38-0
102,000 See Army Triumph Over Navy
Columbia, Army, Penn, Rice Victorious
Lujack Wins Heisman Football Trophy
Army And Notre Dame Battle To Scoreless Tie
1. Cody (25) Purdue fullback, at start of 69 yd. run in 14-14 tie with Ohio State 2. Perich (73) recovers a St. Mary's fumble in Californian's 33-2 victory over Fordham. 3. Davis (41), Army star, shakes off Columbia players near finish of his 66-yd. run for touchdown, and 48-14 win for Army. 4. In No. Carolina's 21-14 victory over Navy, Williams, left, Navy, returning Carolina punt.
Yale's football captain, Levi Jackson (second from left) "tackles· a few tons of cement daily on a New Haven street-resurfacing job, getting in shape for the coming grid season. Temperatures in the 90's don't bother him, and after his day's work he goes to the Yale gym for a workout!
Action shots of plays that thrilled football. L. fans watching these two hard fought games, show: 1. Wetlaufer, Penn., snares pass on Columbia's 3-yd. line in 2nd period. 2. Penn. end, Roberts, blocking kick by Nork, which resulted in Penn. touchdown. Penn. tallied winning touchdown in last 30 seconds of play. 3. DiBlasiom, Harvard, missing a pass in game at West Pt.
1. View of crowd which packed Municipal Stadium in Philadelphia to witness Army-Navy Football classic. 2. Navy center misses pass. 3. Army pass gains 15 yards. 4. President and Mrs. Truman were
enthusiastic spectators.

Panorama view of the huge throng in Philadelphia Municipal Stadium to see the West Point football team 'sink" the Naval Academy eleven 21 to O. President and Mrs. Truman, right, were among the cheering spectators.
Action shots from thrilling football encounters: 1. Kusserow (30) Columbia, gains 3 yds. in team's 33-13 win over Dartmouth. 2. Army's famous Don Blanchard romps for 26 yds. in victory over Duke, 19-0.3. Chewning, Navy, steps off a gain in game Pennsylvania won 32-19. 4. Anderson, Rice, coming through for 4 yds. in team's defeat of U. of Texas, 18-13.
Quarterback Johnny Lujack (left) of Notre Dame's undefeated team receives the Heisman Trophy in recognition as the outstanding football player of 1947 from Pres. Wilbur Jurden of the Downtown Athletic Club in New York. Right: Johnny in is "working clothes".
Acclaimed "the football game of the century," two great elevens fought to a 0-0 tie in Yankee Stadium before 74,000 fans. 1. Pass, Lujack to Brennan, in 3rd quarter. In final quarter; 2. Enos, Army, grabs pass intended for Cowhig, N.D. 3. Sitko, N.D. smears pass intended for West, Army. 4. Tucker, Army, tosses pass to G. Davis for 1st down.
Beside each stock number is the available quantity of this original poster.
Davis And Blanchard Graduate From West Point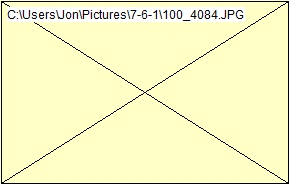 Good news for Army's football opponents this Fall is found in the graduation of Glenn Davis (I) and Felix "Doc" Blanchard (2), famous gridiron stars, shown getting their diplomas from Gen. Maxwell Taylor. (3) Gen. Dwight D. Eisenhower addressed the graduating class of 300.
Also See: Sports, Basketball, Tennis, Golf