Historical Art PhotoNews Posters
Circa 1946 - 1952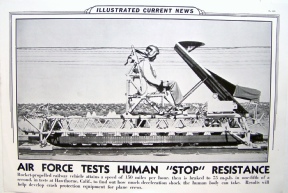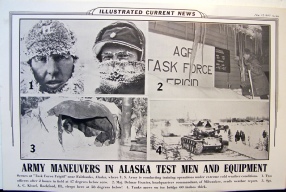 Army Maneuvers In Alaska Test Men & Equip
Britain's Field Marshall Montgomery Visits U.S.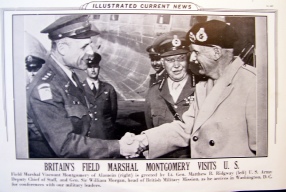 Scenes at "Task Force Frigid" near Fairbanks, Alaska, where U.S. Army is conducting training operations under extreme cold weather conditions. 1. Two officers after 2 hours in field at 46 degrees below zero. 2. Maj .. Delmar Frazier, headquarters commandant, of Milwaukee, reads weather report. 3. Sgt. AC Kissel, Rockford, III., sleeps here at 58 degrees below! 4. Tanks move on ice bridge 60 inches thick.
Field Marshall Viscount Montgomery of A1amein (right) is greeted by Lt. Gen. Matthew B. Ridgeway Oeft) U.S. Army Deputy Chief of Staff, and Gen. Sir William Morgan, head of British Military Mission, as he arrives in Washington, D.C. for conferences with our military leaders.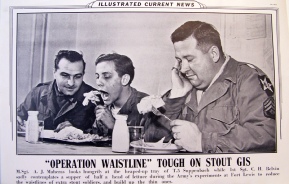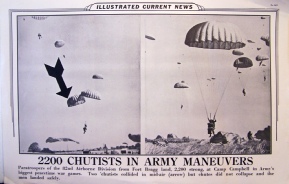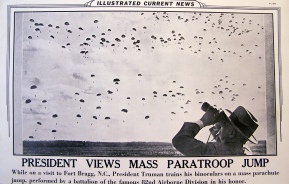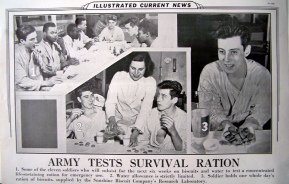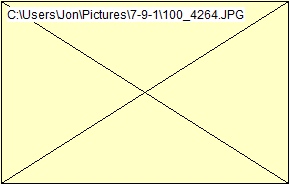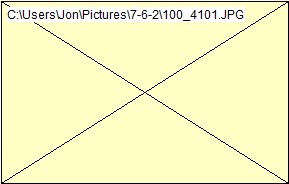 "Operation Waistline" Tough On Stout GIs
2,200 Chutists In Army Maneuvers
President Views Mass Paratroop Jump
Retiring Gen. Clay Honored For Service In Germany
Air Force Tests Human "Stop" Resistance
Army Tests Survival Ration
General Bradley Takes
Over Gen. Eisenhower's Post
General Pershing Remembered
On Armistice Day
M.Sgt. A.J. Maheras looks hungrily at the heaped-up tray of T.5 Suppenbach while 1 st Sgt. C.H. BeMn sadly contemplates a supper of half a head of lettuce during the Army's experiments at Fort Lewis to reduce the waist-lines of extra stout soldiers, and build up the thin ones.

Paratroopers of the 82nd Airborne Division from Fort Bragg land, 2,200 strong, at Camp Campbell in Army's biggest peacetime war games. Two chutists collided in mid-air (arrow) but chutes did not collapse and the men landed safely.

While on a visit to Fort Bragg, N.C., President Truman trains his binoculars on a mass parachute jump, performed by a battalion of the famous 82nd Airborne Division in his honor.
The former U.S. Military Govemor in Germany, Gen. Lucius D. Clay, is congratulated by Pres. Truman after receiving a second Oak Leaf Cluster for his Distinguished Service Medal, in White House ceremony. In background are Vice Pres. Barkley, Mrs. Clay and Sec. of State Acheson. The General was hailed as a "hero of peace."
Rocket-propelled railway vehicle attains a speed of 150 miles per hour, then is braked to 75 m.p.h. in one-fifth of a second, in tests at Hawthorne, Calif., to find out how much deceleration shock the human body can take. Results will help develop crash protection equipment for plane crews.
1. Some of the eleven soldiers who will subsist for the next six weeks on biscuits and water to test a concentrated life-sustaining ration for emergency use. 2. Water allowance is strictly limited. 3. Soldier holds one whole day's ration of biscuits, supplied by the Sunshine Biscuit Company's Research Laboratory.
Interesting close-up photo of Gen. Dwight D. Eisenhower, left, retiring Chief of Staff of the U.S. Army, as he wishes his successor, Gen. Omar Bradley, the best of luck in the Army's most important job. Eisenhower becomes president of Columbia University, New York
Three-year-old Jane Flynn of Washington, D.C., places flowers on the grave of General of the Armies John J. Pershing in Arlington National Cemetery on the 30th anniversary of Armistice Day. Jane's Daddy, J. Marshall Flynn, fought under Pershing in World War I.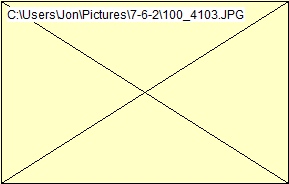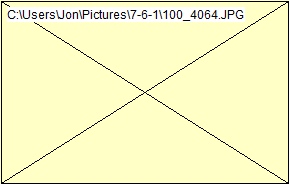 Personalities In The News
6 GAR Vets Attend Last Encampment
New York, N.Y. - Gen. Mark W. Clark, former commander of American occupation forces in Austria, Mrs. Clark and their daughter, Ann, arrive on the liner SS America. Gen. Clark, who will assume command of the U.S. Sixth Army, said he could "see no reason for optimism" about relations between the U.S. and Russia.
1. Charles Collins carries wife Ethel, mother of quadruplets, into new Bronx, N.Y., home provided by admiring neighbors. 2. Jack Delinger, 22, Oakland, Cal., is new "Mr. America", defeating 40 Adonises at Cleveland contest.
3. Gen. Jonathan M. Wainwright, hero of Corregidor, attends a disabled Veterans parade at Loveland, Colo.
With only 16 members still live, six Grand Army ofthe Republic veterans meet in their final convention in Indianapolis. L. to R. Theodore A. Penland National Commander; Charles L. Chappel, 102; Albert Woolson 102, Joseph Clovese, 105; Robert Barrett, 102, and James A. Hard.
Beside each stock number is the available quantity of this original poster.
Also See: Navy, Marines, Korea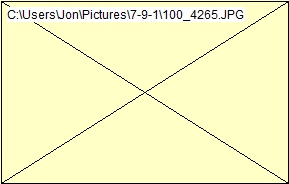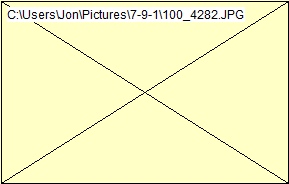 Spaatz Gets Third Oak Leaf Cluster
Supply Planes Land Every
3 Minutes In War Games
Gen. Carl A. Apaatz, retiring Chief of the Air Force, receives a 3rd Oak Leaf Cluster for his Distinguished Service Medal from Pres. Truman at Washington, D.C. ceremonies. L. to r.; Pres. Truman, Carla Spaatz, the General's daughter; Mrs. Spaatz, and the General.
The mile-long airstrip at Camp Mackall, near Fort Bragg, N.C., becomes the busiest airport in the nation as Air Force planes land, one ever 3 minutes, carrying everything from food to tractors to troops engaged in "Exercise Swarmer" war games.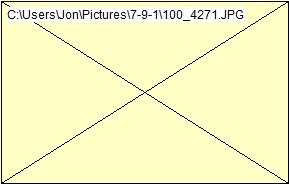 Man Who Telegraphed
Corregidor's Fall 8 Years Ago
Irving Strobing, then a sergeant (left), remembers full well the day eight years ago when he sent the message that Corregidor had fallen to the Japs. He was imprisoned 39 months, suffered tuberculosis as a result of his confinement, but today, in his Brooklyn, N.Y. home (right), he is on the road to recovery.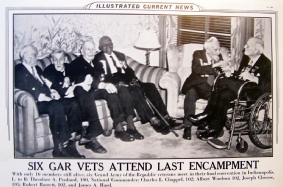 Due to shortage of storage space, the US Army has developed a process doe burying large quantities of live ammunition now on hand. here, workmen stack bombs prior to burial at the Savanna ordnance Depot in Illinois. Some 200,000 tons of reserve ammunition will be "buried alive".
Called "the sniperscope" the electronic equipment worn by this GI driver enables him to drive 30 miles an hour without lights in pitch darkness. Based on the infra red ray principle, the apparatus weighs only four pounds and when attached to a rifle, it enables our soldiers to spot a sniper in the dark as far as 100 yards away.
An unidentified woman kneels over the coffin of one of twenty war heroes buried during a mass funeral service at the National Cemetery, Arlington, Va. Her parting gesture followed impressive ceremony attended by
Pres. Truman, cabinet members and chiefs of
the military forces.
New Device Enables U.S.
Soldiers To See In The Dark