Historical Art PhotoNews Posters
Circa 1946 - 1952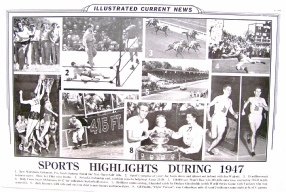 Sports Highlights During 1947
Checho-Slovakian Youth
State Gymnastic Spectacular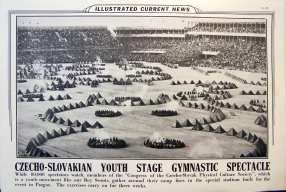 1. Law Worsham, Oakmont,Pa.,beats Sammy Snead for Nat.Open Golf title. 2. Sport's surprise of the year: Joe Louis down and almost out in bout with Joe Walcott. 3. 18 million went to horse races. Here Jet Pilot wins Derby.
While 80,000 spectators watch, members of the "Congress of the CzechoSlovak Physical Culture Society". which is a youth movement like our Boy Scouts, gather around their camp fires in the special stadium built for the event in Prague. The exercises carry on for three weeks.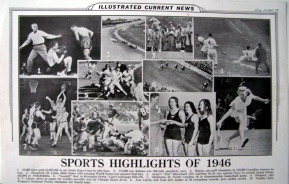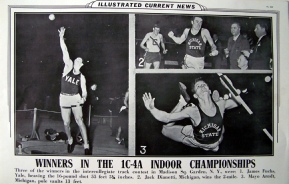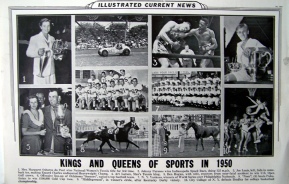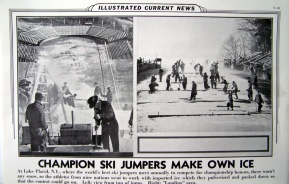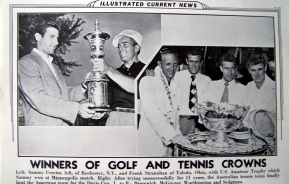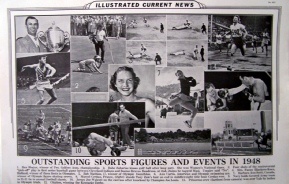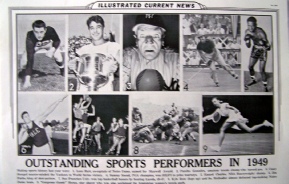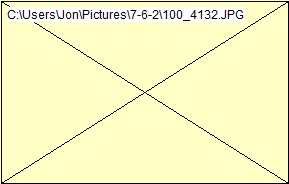 Sports Highlights Of 1946
Winners In The IC-4A
Indoor Championships
Kings And Queens Of Sports In 1950
Champion Ski Jumpers Make Own Ice
Winners of Golf And Tennis Crowns
Outstanding Sports Figures
And Events In 1948
Outstanding Sports Performers in 1949
Gov. Dewey Gets Tips On "Hits" And "Punches"
1. 45,000 fans paid $1,925,564 to see Louis Kayo Conn in the title bout. 2. 175000 saw Robson win 500-mile speedway race. 3. Hogan, pro-golf champion, in $10,000 Canadian toumey he won. 4. Slaughter, St. Louis, slides home with winning World Series run against Red Sox.

Three of the winners in the intercollegiate track contest in Madison Sq. Garden, N.Y., were: 1. James Fuchs, Yale, heaving the 16-pound shot 55 feet 5-1.4 inches. 2. Jack Dianetti, Michigan, wins the 2-mile. 3. Mayo Arndt, Michigan, pole vaults 13 feet.
1. Mrs. Margaret Osborne du Pont wins National Women's Tennis title for 3rd time.2.Johnny Parsons wins Indianapolis Speed Race,doing 125 m.p.h. 3. Joe Louis. left, fails in come-back try, making Ezzard Charles undisputed Heavyweight Champ.

At Lake Placid, N.Y. where the world's best ski jumpers meet annually to compete for championship honors, there wasn't any snow, so the athletes from nine nations went to work with imported ice which they pulverized and packed down so that the contest could go on. Left: view from top of jump. Right: "Landing" area.
Left: Sammy Urzetta, left, of Rochester, N.Y., and Frank Stranahan of Toledo, Ohio, with U.S. Amateur Trophy which Sammy won at Minneapolis match. Right: After trying unsuccessfully for 11 years, the Australian tennis team finally beat the American team for the Davis Cup. L. to R.; Bromwich McGregor, Worthington and Sedgman.
1. Ben Hogan, Winner of Pro. Golfers Asso. championship. 2. Babe Zaharias kisses golf ball after 'ortg.putt. She won Women's National Open. 3. Four
Making sports history last year were: 1. Leon Hart, co-captain of Notre Dame, named for Maxwell Award. 2. Pancho Gonzales, amateur tennis champ who turned pro. 3, Casey Stengel master-minded the Yankees to World Series victory.

Gov. Thomas E. Dewey, Republican, of New York, center, is shown getting a few pointers on how to win his campaign for re-election over Sen. James M. Mead, Democrat, from baseball's former Home Run King, Babe Ruth, left, and World's Heavyweight Champion Joe Louis, right.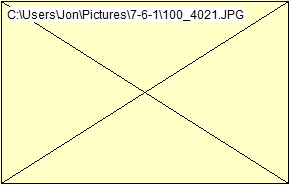 Paralyzed Vets Play Wheelchair Softball
Bob Hope Visits Bill Veek In Hospital
At the Birmingham Veterans Hospital, San Fernando,Calif., war vets who are paralyzed from the waist down, are organizing a softball team. 1. Choosing sides. 2. Batter socks a grounder. 3. Ball beats wheelchair-runner to first. 4. Another close play at 1st in the making.
Radio-movie comic, Bob Hope, left, who is part owner of the Cleveland Indians baseball club, visits Tribe president Bill Veeck at Cleveland Clinic. Veeck is recovering from amputation of his right leg injured at Bougainville when he was fighting with
the Marine Corps.
Beside each stock number is the available quantity of this original poster.
Also See:
Individual Games