Historical Art PhotoNews Posters
Circa 1946 - 1952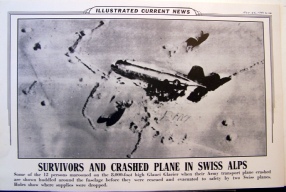 Survivors and Crashed
Plane In Swiss Alps
Rescued From Canadian Wilds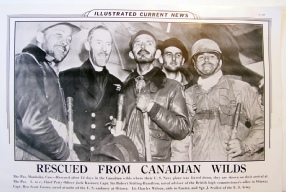 Some of the 12 persons marooned on the 8,000-foot high Glauci Glacier when their Army transport plane crashed are shown huddled around the fuselage before they were rescued and evacuated to safety by two Swiss planes. Holes show where supplies were dropped.
The Pas, Manitoba, Can. - Rescued after 12 days in the Canadian wilds where their U.S. Navy plane was forced down, they are shown on their arrival at The Pas. L. to r., Chief Petty Officer Jack Kastner; Capt. Sir Robert Stirling-Hamilton, naval adviser of the British high commissioner's office in Ottawa; Capt. Ben Scott Custer, naval attache of the U.S. embassy at Ottawa. U. Charles Wilcox, aide to Custer, and Sgt. J. Scalise of the U.S. Army.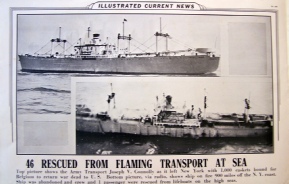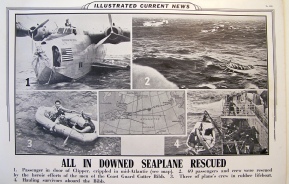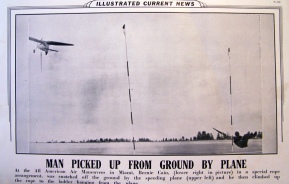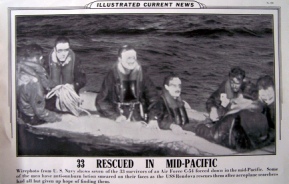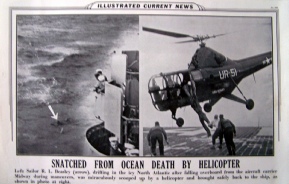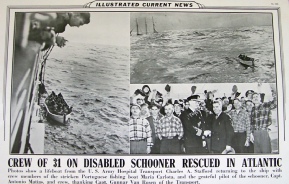 46 Rescued From Flaming
Transport At Sea
All In Downed Seaplane Rescued
Man Picked Up From Ground By Plane
33 Rescued In Mid-Pacific
Snatched From Ocean
Death By Helicopter
Crew Of 31 On Disabled Schooner
Rescued In Atlantic
Top picture shows the Army Transport Joseph V. Connolly as it left New York with 1,000 caskets bound for Belgium to return war dead to U.S. Bottom picture, via radio, shows ship on fire 900 miles off the N.Y. coast. Ship was abandoned and crew and 1 passenger were rescued from lifeboats on the high seas.
1. Passenger in door of Clipper, crippled in mid-Atlantic (see map). 2. 69 passengers and crew were rescued by the heroic efforts of the men of the Coast Guard Cutter Bibb. 3. Three of plane's crew in rubber lifeboat. 4. Hauling survivors aboard the Bibb.

At the All American Air Maneuvers in Miami, Bernie Cain, (lower right in picture) in a special rope arrangement, was snatched off the ground by the speeding plane (upper left) and he then climbed up the rope to the ladder hanging from the plane.
Wirephoto from U.S. Navy shows seven of the 33 survivors of an Air Force C-54 forced down in the mid-Pacific. Some of the men have anti-sun bum lotion smeared on their faces as the USS Rendova rescues them after aeroplane searchers had all but given up hope of finding them.
Left: Sailor R. L. Beasley (arrow), drifting in the icy North Atlantic after falling overboard from the aircraft carrier Midway during maneuvers, was miraculously scooped up by a helicopter and brought safely back to the ship, as shown in photo at right.
Photos show a lifeboat from the U.S. Army Hospital Transport Charles A. Stafford retuning to the ship with crew members of the stricken Portuguese fishing boat Marie Carlota, and the grateful pilot ofthe schooner, Capt. Antonio Matias, and crew, thanking Capt. Gunnar Van Rosen of the Transport.
Rescuers pull victims from crash of Standard Airlines plane on a hillside, 25 miles from Los Angeles. Pilot had wired Burbank Airport that a fight broken out among two passengers, just prior to the crash. Lower right photo shows Stewardess Charlotte Grenadier who survived the crash.
Left: The landing ship COMSTOCK, pictured as it approached 26 men in life boats and rafts after they had floated 7 days following fire aboard their ship ELDER in the So. Pacific. Right: aerial photo shows how men existed until rescued.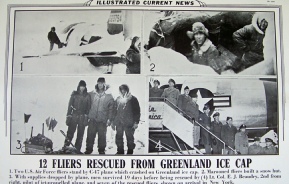 12 Fliers Rescued
From Greenland Ice Cap
1. Two U.S. Air Force fliers stand by C-47 plane which crashed on Greenland ice cap. 2. Marooned fliers built a snow hut. 3. With supplies dropped by plane, men survived 19 days before being rescued by (4) U. Co!. E.J. Beaudry, 2nd from right, pilot of jet-propelled plane, and seven of the rescued fliers, shown on arrival in New York.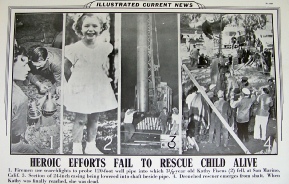 Heroic Efforts Fail To Rescue Child Alive
1. Firemen use searchlights to probe 120-foot well pipe into which 3 1/2 year old Kathy Fiscus (2) fell, at San Marino, Calif. 3. Section of 24-inch casing being lowered into shaft beside pipe. 4. Drenched rescuer emerges from shaft. When Kathy was finally reached, she was dead.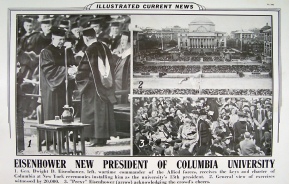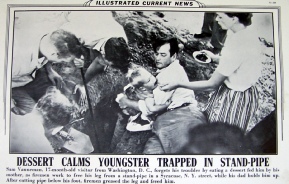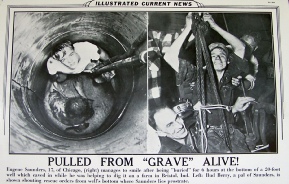 Saved By Rope After
Being Swept Over Falls
Dessert Claims Youngster
Trapped In Stand-Pipe
Pulled From "Grave" Alive!
Joseph Smith (left in circle) a volunteer sandbagging the Verona Dam at Battle Creek, Mich., is shown being sucked over the dam's edge as another volunteer holds him and a rope is thrown from shore. Dam was sandbagged to divert. river in hunt for body of drowned Ronnie Morgan, 14.
Sam Vannerman, 17-month-old visitor from Washington, D.C., forgets his troubles by eating a desert fed him by his mother, as firemen work to free his leg from a stand-pipe in a Syracuse, N.Y. street, while his dad holds him up. After cutting pipe below his foot, fireman greased the leg and freed him.
Eugene Saunders, 17, of Chicago, (right) manages to smile after being "buried" for 6 hours at the bottom of a 20-foot well which caved in while he was helping to dig it on a farm in Bristol, Ind. Left: Bud Berry, a pal of Saunders, is shown shouting rescue orders from well's bottom where Saunders lies prostrate.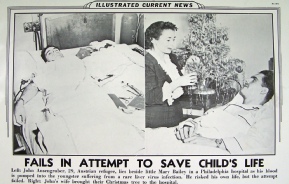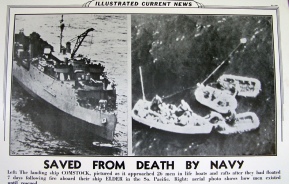 Fails In Attempt To Save Child's Life
Left: John Answngruber, 29, Austrian refugee, lies beside little Mary Bailey in a Philadelphia hospital as his blood is pumped into the youngster suffering from a rare liver virus infection. He risked his own life, but the attempt failed. Right: John's wife brought their Christmas tree to the hospital.
Beside each stock number is the available quantity of this original poster.
28 Killed, 20 Injured,
In Mysterious Plane Crash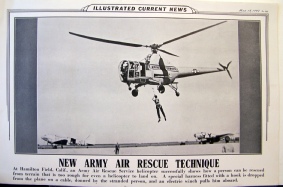 New Army Air Rescue Technique
At Hamilton Field, Calif., an Army Air Rescue Service helicopter successfully shows how a person can be rescued from terrain that is too rough for even a helicopter to land on. A special harness fitted with a hook is dropped from the plane on a cable, donned by the stranded person, and an electric winch pulls him aboard.