Historical Art PhotoNews Posters
Circa 1946 - 1952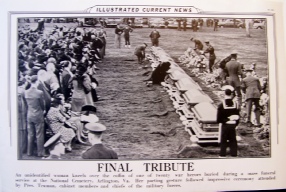 OPA's Price-Rise Predications
Slightly Exaggerated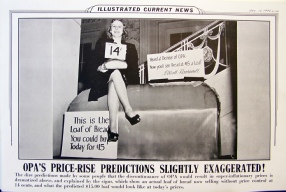 An unidentified woman kneels over the coffin of one of twenty war heroes buried during a mass funeral service at the National Cemetery, Arlington, Va. Her parting gesture followed impressive ceremony attended by
Pres. Truman, cabinet members and chiefs of
the military forces.
The dire predictions made by some people that the discontinuance of OPA would result in super-inflationary prices is dramatized above, and explained by the signs, which show an actual loaf of bread now selling without price control of 4 cents, and what the predicted $15.00 loaf would look like at today's prices.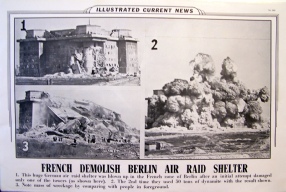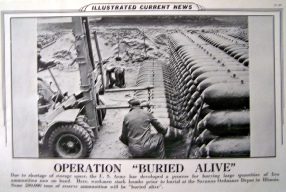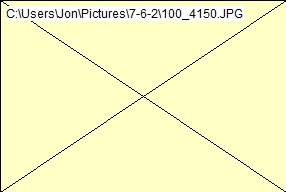 French Demolish Berlin Air Raid Shelter
Tojo Studies Defense
During Trial Recess
1. This huge German air raid shelter was blown up in the French zone of Berlin after an initial attempt damaged one of the towers (as shown here). 2. The 2nd time they used 50 tons of dynamite with the result shown.
3. Note mass of wreckage by comparing with
people in foreground.
Due to shortage of storage space, the US Army has developed a process doe burying large quantities of live ammunition now on hand. here, workmen stack bombs prior to burial at the Savanna ordnance Depot in Illinois. Some 200,000 tons of reserve ammunition will be buried alive".
Windsor, Ont., Canada - Far more fortunate than her American cousins, this Canadian housewife has only to produce 'her ration book and money in order to get meat for her table. American women would cry for joy at the sight of the huge beef roast being weighed in a Windsor supermarket. Meat in Canada is rationed, but plentiful.
Japan's wartime premier, Hideki Tojo, left, reviews his war crimes trial defense while Kenryo Saro, center, former chief of military affairs, and Toshio Shiratorie, former foreign office advisor, also on trial, play "Go."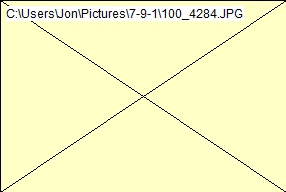 San Francisco Honors
World War II Dead
Omaha Beach Five Years After D-Day
With an honor guard, representative of all branches of the armed forces, flag draped caskets containing bodies of World War II dead lie in state in city hall rotunda. Funeral ship Honda Knot arrived here with 3,028
bodies of World War II dead.
Rusting landing craft on the Normandy sands where in 1944 the United States 1 st and 29th Divisions stormed ashore to breach Germany's channel defenses and establish a base when enabled American forces to win the war.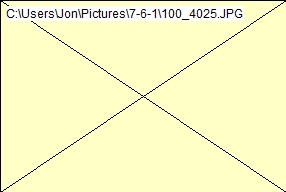 Preceded by his best man, Tom O'Hara, in his chair, Elmer Faber of Detroit leaves Clinton, Iowa, church with his bride, former Rose Mary Hyde, nurse at the Hines Veterans Hospital. 17 of Faber's paraplegic buddies line the aisle outside the church.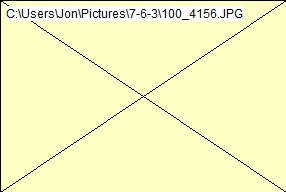 Nazi Loot Exhibited In New York
Big Three Discuss Arming West Germany
The Foreign and Defense Ministers of Great Britain, France, and the U.S. meet in New York to decide question of arming West Germany. L. to r.; Foreign Sec. Bevin and Defense Minister Shinwell, Britain; Foreign Minister Schuman and Defense Minister Mach,
France; U.S. Sec. of State Acheson and
Defense Sec., Gen. Marshall.
Priceless art and silver treasures, recovered by Allied Occupation Forces from the Hitler, Goering, Goebbels loot, are shown on display at the Plymouth Galleries. Pieces positively identified by former owners were retumed. Others were auctioned off to raise funds for displaced persons in Europe.
Beside each stock number is the available quantity of this original poster.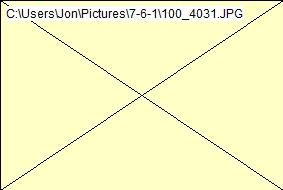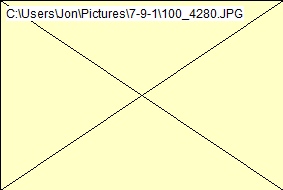 Flag Autographed By Jap War Criminals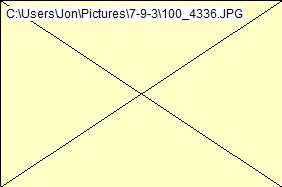 Private Funeral Services For Tojo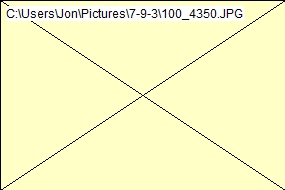 lIa Hager Oeft) and Frances Barker display a Jap flag autographed by 26 war criminals now on trial in Tokyo. Flag was presented to the Union Pacific Museum, Omaha, Nebraska, by U. Co!. A.S. Kenworthy, officer in charge of guarding the prisoners.
Buddhist priest Shinso Hanayama (left) presides at funeral services for Hideki Tojo, Jap war lord recently hanged in Tokyo for his war crimes, as his trial attorney Ichiro Kiyose and Tojo's widow bow their
heads in respect.