Historical Art PhotoNews Posters
Circa 1946 - 1952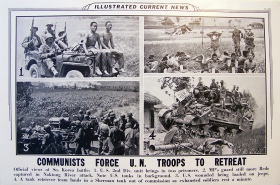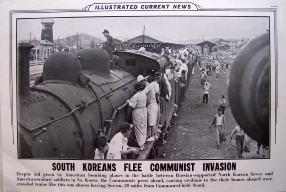 South Korean Flee Communist Invasion
Korean Communist Capital
Blasted by UN Planes
Despite aid given by American bombing planes in the battle between Russian-supported North Korean forces and American-trained soldiers in So. Koreas. the Communists press ahead, c~using cMlians to flee their homes aboard over-crowded trains like this one shown leaving Suwon, 20 miles from Communist-held Seoul.
This railroad repair shop in Pyongyang, No. Korea, where the Red Communists had their war-damaged railroad cars and engines reconditioned, looks like it will need a little repair job itself, as a result of bombings by the UN air forces. Capture of the Red's capital city may well mean the end of major warfare in Korea.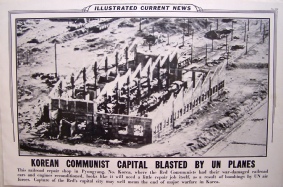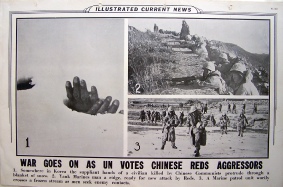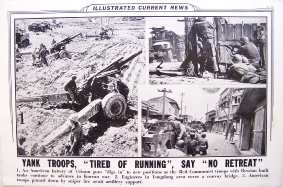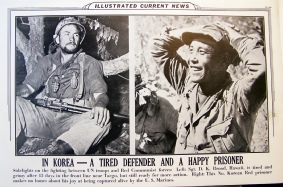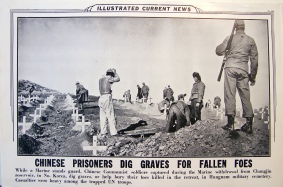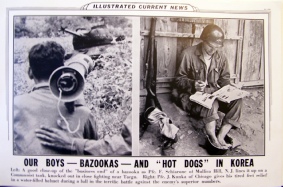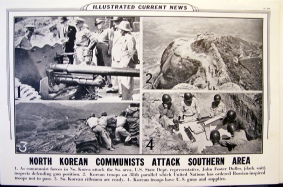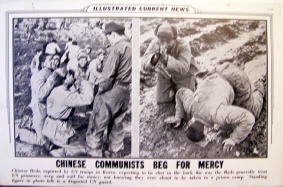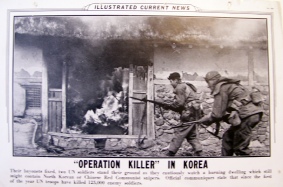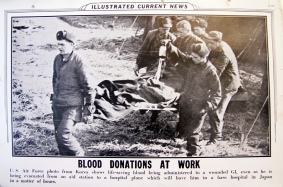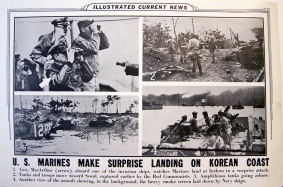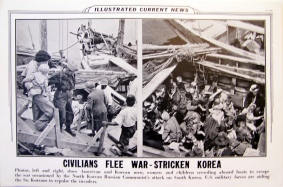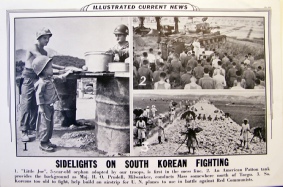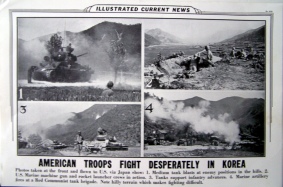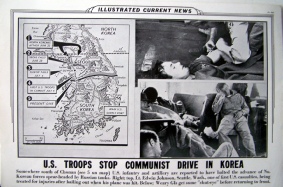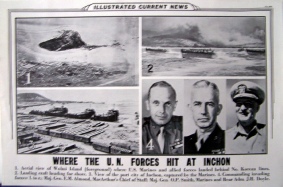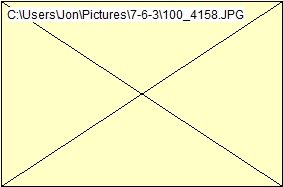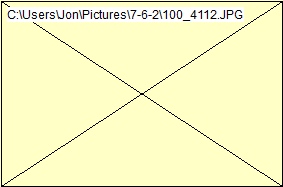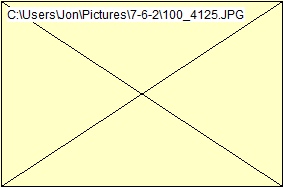 War Goes On As UN
Votes Chinese Aggressors
In Korea-
A Tired Defender & Happy Prisoner
Chinese Prisoners Dig
Graves for Fallen Foes
Communist Force U.N.
Troops To Retreat
UN Troops Safely Evacuated
From Hungnam Land At Pusan
Our Boys-Bazookas-
& "Hot Dogs" In Korea
North Korean Communists
Attack Southern Area
Chinese Communists Beg For Mercy
"Operation Killer" In Korea
U.S. Marines Make Surprise
Landing On Korean Coast
Civilians Flee War-Stricken Korea
Honor UN Soldiers
Killed In Korean Fighting
American Troops Fight
Desperately In Korea
U.S. Troops Stop Communist
Drive In Korea
Where The U.N. Forces Hit At Inchon
With Our Troops In South Korea
Paratroopers Shut Off Red Communist Retreat
Chinese Red Battle UN Troops In No. Korea
Wounded Soldiers Get Decorations
Half Million Koreans Flee Chinese Reds
1. Somewhere in Korea the suppliant hands of a civilian killed by Chinese Communists protrude through a blank of snow. 2. Yank marines man a ridge, ready for new attack by Reds. 3. A Marine patrol unit warily crosses a frozen stream as men seek enemy contacts.
1. An American batter of 155 mm guns "digs in" to new positions as the Red Communist troops with Russian built tanks continue to advance in Korean war. 2. Engineers in Yongdong area cover a convoy bridge.
3. American troops pinned down by sniper fire await artillery support.
Sidelights on the fighting between UN troops and Red Communist forces: Left: Sgt. O.K. Brood, Hawaii, is tired and grimy after 43 days in the front line neat Taegu, but still ready for more action. Right: This No, Korean Red prisoner makes no bones about his joy at being captured alive by the U.S. Marines.
Chinese Prisoners Dig Graves For Fallen Foes While a Marine stands guard, Chinese Communist soldiers captured during the Marine withdrawal from Changjin reservoir, in No. Korea, dig graves, or help bury their foes killed in the retreat, in Hungnam military cemetery. Casualties were heavy among the trapped UN troops.
Official views of So. Korea battle: 1. U.S. 2nd Div. unit brings in two prisoners. 2. MP's guard still more Reds captured in Naktong River attack. Note U.S. tanks in background. 3. U.S. wounded being loaded on jeeps. 4, A tank retriever team hauls in a Sherman tank out of commission as exhausted soldiers rest a minute.
In the fastest evacuation in our military history, some 105,000 men, with full material, were taken out of Hungnam and landed at Pusan, ready to fight Chinese Reds again. 1. Plane-load of evacuees. 2. American M-26 tanks unloading at Pusan. 3. U.S. 10th Corps troops on Pusan dock. 4. Marines head back into the fight.
Left: A good close-up of the "business end" of a bazooka as Pfc. F. Schiarone of Mullica Hill, N.J. lines it up on a Communist tank, knocked out in close fighting near Taegu. Right: Pfc. J. Kunka of Chicago gives his tired feet relief in a water-filled helmet during a lull in the terrific battle against the enemy's superior numbers.
1. As communist forces in No. Korea attack the So. area, U.S. State Dept. representative, John Foster Dulles, (dark suit) inspects defending gun position. 2:~Korean troops on 38th parallel which United Nations has ordered Russian-inspired troops not to pass. 3. So. Korean riflemen are ready. 4. Korean troops have U.S. guns and supplies.
Chinese Communists Beg For Mercy Chines Reds, captured by UN troops in Korea, expecting to be shot in the back the way the Red generally treat UN prisoners, weep and wail for mercy, not knowing they were about to be taken to a prison camp. Standing figure in photo left is a disgusted UN guard.
Their bayonets fixed, two UN soldiers stand their ground as they cautiously watch a burning dwelling which stili might contain North Korean or Chinese Red Communist snipers. Official communiqués state that since the first of the year UN troops have killed 125,000 enemy soldiers.
U.S. Air Force photo from Korea shows life-saving blood being administered to a wounded GI, even as he is being evacuated from an aid station to a hospital plane which will have him in a base hospital in Japan in a matter of hours.

1. Gen. MacArthur (arrow), aboard one of the invasion ships, watches Marines land at Inchon in a surprise attack. 2. Tanks and troops move toward Seoul, captured earlier by the Red Communists. 3. Amphibious ranks going ashore. 4. Another view of the assault showing, in the background, the heavy smoke screen laid down by Navy ships.
Photos, left and right, show American and Korean men, women and children crowding aboard boats to escape the war occasioned by the North Korean-Russian Communist's attack on South Korea. U.S. military forces are aiding the So. Koreans to repulse the invaders.

1. "Little Joe", 5-year-old orphan adopted by our troops, is first in the mess line. 2. An American Patton tank provides the background as Maj. H.C. Prudell, Milwaukee, conducts Mass somewhere north of Taegu.
3. So. Koreans too old to fight, help build an airstrip for U.N. planes to use in battle against Red Communists.
An honor guard presents arms over the graves of UN soldiers killed in action in the battle to wrest Seoul from Red Communist hands. The new military cemetery is located near Inchon. Meantime fresh UN troops press forward into North Korea under Gen. MacArthur's orders.
Photos taken at the front and flown to U.S. via Japan show: 1. Medium tank blasts at enemy positions in the hills. 2. U.S. Marine machine gun and rocket launcher crews in action. 3. Tanks support infantry advances. 4. Maine artillery fires at a Red Communist tank brigade. Note hilly terrain which makes fighting difficult.
Somewhere south of Chonan (see 5 on map) U.S. infantry and artillery are reported to have halted the advance of No. Korean forces spearheaded by Russian tanks. Right; top, U. Edwin Johnson, Seattle, Wash., one ofthe first U.S. casualties, being treated for injuries after bailing out when his plane was hit. Below; Weary Gis get some "shut-eye" before retuning to front.
1. Aerial view of Wolmi Island (foreground) where U.S. Marines and allied forces landed behind No. Korean lines. 2. Landing craft heading for shore. 3. View of the port city if Inchon, captured by the Marines. 4. Commanding invading forces: I to r.; Maj. Gen. E.M. Almond, MacArthur's Chief of Staff; Maj. Gen. C.P. Smith, Marines and Rear Adm. J.H. Doyle.
Solemn looks mark the faces of President Truman and two cabinet members as they enter the White House for meeting of key officials to act on Russian invasion of South Korea. Pd left is Att. Gen. J. Howard McGrath. Pd right is Defense Secretary Louis Johnson.
U.S. Army photos, via wire, show activities of our troops in So. Korea. 1. Pvt. C.J. Solomon, Pikeville, Tenn., brings in a couple Red prisoners. 2. Marines use a lull in the fighting to wash up. 3. The pause gives Pfc. B. Yablanski, Pringle, Pa., a chance to nap while Pfc. H. Doss, Appomattox, Va., gets a haircut from Cpl. R. Gusty, Richmond, Va. 4. Natives carry supplies to U.S. 24th Division.
Left: Some 4,000 paratroopers of the U.S. 187th Airborne Regiment drop to the ground behind Communist Korean lines. Right: The paratroop maneuver enabled UN forces to capture over 25,000 prisoners and
put a virtual end to the Korean war, except for guerrilla die-hards.
1) Maj. Gen. Edward E. Almond, commanding U.S. 10th Corps, (second from right) questions a Chinese Red prisoner as (2) other Reds are captured by the Marines on No. Korean battlefront. (3) Over 100,000 Russian-equipped Chinese troops are reported in the field against the UN forces.
Wounded Soldiers Get Decorations 41 wounded U.S. Army veterans of the fighting in Korea get Purple Heart awards in a mass presentation ceremony at Walter Reed army hospital in Washington, D.C.
1. A So. Korean mother and child fall be the wayside unable to continue the mass exodus to escape the Communists. 2. The refugees choke the narrow roads interfering with troop movements. 3. Homeless and hungry youngsters in a Taegu refugee camp wonder what it's all about.
Yank Troops, "Tired of Running",
Say "No Retreat"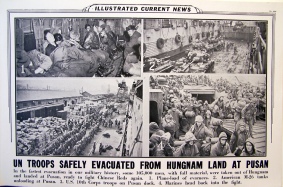 Sidelights On South Korea Fighting
In Serious Mood Over Korean Situation
Beside each stock number is the available quantity of this original poster.
Also See: Truman, MacArthur, Airplanes