Historical Art PhotoNews Posters
Circa 1946 - 1952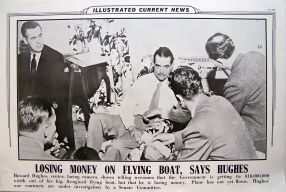 Losing Money on Flying
Boat, Says Hughes
Center Of Hughes' War
Contracts Investigation
Howard Hughes, center, facing camera, shown telling newsmen that the Government is getting its $18,000,000 worth out of his big, 8-engined flying boat, but that he is losing money. Plane has not yet flown. Hughes' war contracts are under investigation by a Senate Committee.
The gigantic, 8-engined, plywood flying boat, still being worked on at its dock at Long Beach, Calif., is the center of discussion before the Senate War Investigating Committee which is probing Hughes' $44,000,000 in war contracts.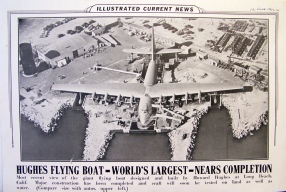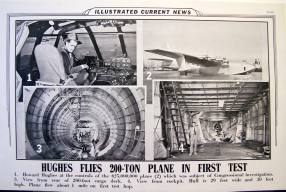 Hughes Flying Boat-World's Largest
Nears Completion
Hughes Flies 200-Ton Plane In First Test
Hughes Flying Boat - World's Largest - Nears Completion Most recent view of the giant flying boat designed and built by Howard Hughes at Long Beach, Calif. Major construction has been completed and craft will soon be tested on land as well as water (Compare size with autos, upper left.)
1. Howard Hughes at the controls of the $25,000,000 plane (2) which was subject of Congressional investigation. 3. View from rear of 200-foot cargo deck. 4. VieW from cockpit. Hull is 29 feet wide and 30 feet high. Plane flew about 1 mile on first test hop.

Beside each stock number is the available quantity of this original poster.