Historical Art PhotoNews Posters
Circa 1946 - 1952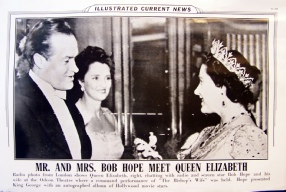 Mr & Mrs Bob Hope Meet Queen Elizabeth
Grandpa Greets Rita Hayworth's Daughter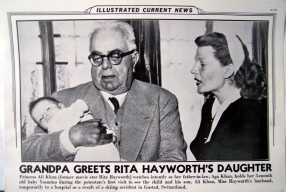 Radio photo from London shows Queen Elizabeth, right, chatting with radio and screen star Bob Hope and his wife at the Odeon Theatre where a command performance of "The Bishop's Wife" was held. Hope presented King George with an autographed album of Hollywood movie stars.
Princess Ali Khan (former movie star Rita Hayworth) watches intently as her father-in-law, Aga Khan, holds her 3-month old baby Yasmina during the potentate's first visit to see the child and his son, Ali Khan, Miss Hayworth's husband, temporarily in a hospital as a result of a skiing accident in Gustad, Switzerland.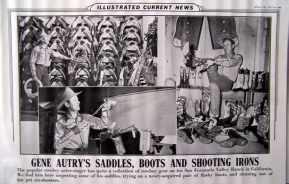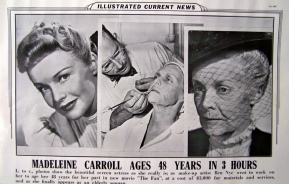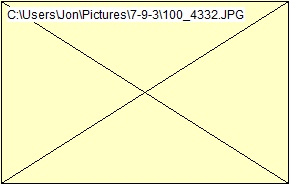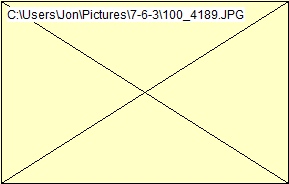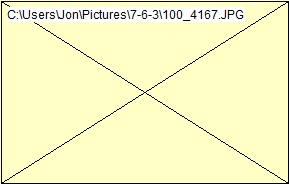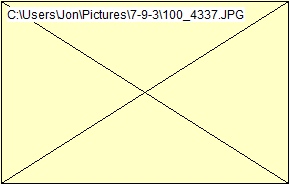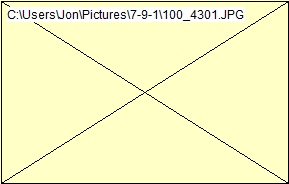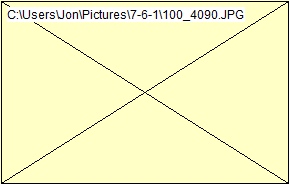 Gene Autry's Saddles,
Boots And Shooting Irons
Madeline Carroll Ages
48 Years In 3 Hours
Happy Birthday To Rita Hayworth
Film Folk Protest Hollywood Probe
How Hollywood Makes A Mermaid
Little Auriol Forgot To Courtsey.
(Oh Dear! Oh Dear!)
Rita Hayworth Meets Prince Aly Khan's Folks
Tyrone And Linda Honeymoon In Vienna
The popular cowboy actor-singer has quite a collection of cowboy gear on his San Fernando Valley Ranch in California. We find him here inspecting some of his saddles, trying on a newly-acquired pair of flashy boots, and cleaning one of his pet six-shooters.
L. to r., photos show the beautiful screen actress as she really is; as makeup artist Ben Nye went to work on her to age her 48 years for her part in new movie "The Fan", at a cost of $3,000 for materials and services, and as she finally appears as an elderly woman.
Glamorous Rita Hayworth took time out from the shooting of her newest picture, "Lady from Shanghai" to enjoy a birthday cake aboard Errol Flynn's yacht "Zaca" in Acapulco, Mexico. :. to r., Flynn and his wife Nora, Rita and her husband Orson Welles.
(other men not identified.)
Group of film stars, in Washing to protest the House Un-American Activities Committee's investigation into alleged Hollywood communism, includes: Richard Conte, June Havoc, John Huston, Humphrey Bogart, Paul Henreid Lauren Bacall, Joe Sistrom, Evelyn Keyes, Danny Kaye, John Shepherd, Jane Wyatt and Larry Adler.
MORE
Views of the process which turns actress Ann Blyth into a mermaid for a new movie. 1. First a plaster of paris cast is made. 2. The resulting forms, Miss Blyth like a glove. 4. Ready for the water. 5. Underwater shot of
the "mermaid".

To 6-year-old Auriol, daughter of film actress Phyllis Calvert (second from left), and Peter Murray Hill (left) life became a pretty tragic affair when she was introduced to Queen Elizabeth (wearing coronet) and Princess Margaret Rose (right), and forgot to curtsey!
The popular film actress (center front) poses with her in-Iaws-to-be when she marries Prince Aly Khan, following international romance. Seated I. to r., Aga Khan, spiritual leader of 70 million Mohammedans and one of the world's richest men; Rita; Aga's wife. Standing: J.G. Campbell, Paris branch of Guaranty Trust Bank, and the Prince himself.
Movie stars Tyrone Power and his bride, Linda Christian, bring saluted by the youngsters of an orphanage in Vienna, following their visit there while on their honeymoon, to distribute CARE packages made available by the National Catholic Welfare Conference - War Relief Services.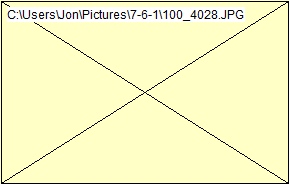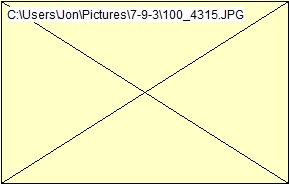 Matrimony Makes The Headlines
Britain's Princess Margaret
Greets Am. Performers
The nation congratulates, left, Mayor William O'Dwyer of New York and Miss Sloan Simpson, pictured immediately after their marriage at Stuart, Fla., and, right, movie idol Clark Gable and Sylvia Alderley, who as Lady Ashley was once married to Douglas Fairbanks, Sr., on their surprise elopement, the 4th marriage for both.
After a "command performance" at London's famous theatre, the "palladium:, Princess Margaret chats with popular American comedian Jack Benny. In the background are: the lovely singer Dinah Shore, Allen Jones, and England's own Gracie Fields (partly hidden by the Princess).
Beside each stock number is the available quantity of this original poster.
Bob Hope Visits Bill Veek In Hospital
Radio-movie comic, Bob Hope, left, who is part owner of the Cleveland Indians baseball club, visits Tribe president Bill Veeck at Cleveland Clinic. Veeck is recovering from amputation of his right leg injured at Sougainville when he was fighting with the Marine Corps.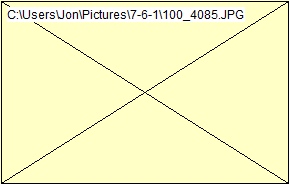 Hollywood - When Jack Dempsey (behind wheel), was in his old trade as the Manassa Mauler, the people whom he got close to while doing business looked nothing like Ellye Marshall. But it's strictly business now, because Dempsey is a movie mogul, and his first production, "The Big Wheel," about auto racing, stars Mickey Rooney, on the racing car.