Historical Art PhotoNews Posters
Circa 1946 - 1952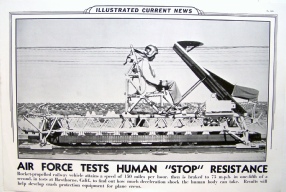 Air Force Tests Human "Stop" Resistance
Food - Or Lack Of It - Makes The Headlines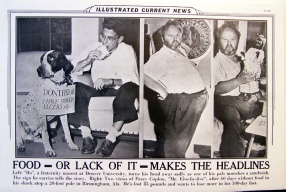 Rocket-propelled railway vehicle attains a speed of 150 miles per hour, then is braked to 75 m.p.h. in one-fifth of a second, in tests at Hawthorne, Calif., to find out how much deceleration shock the human body can take. Results will help develop crash protection equipment for plane crews.
Left: "So", a fraternity mascot at Denver University, tums his head away sadly as one of his pals munches a sandwich. The sign he carries tells the story. Right: Two vies of Percy Coplon, "Mr. Five-by-five", after 60 days without food in his shack atop a 20-foot pole in Birmingham, Ala. He's lost 83 pounds and wants to lose more in his 100-day fast.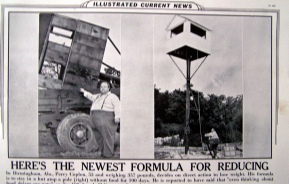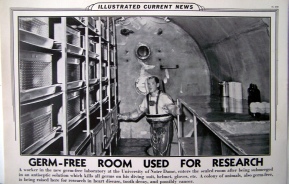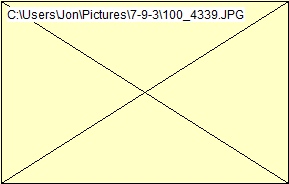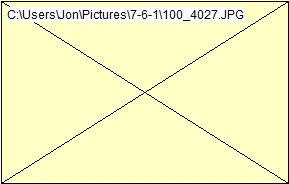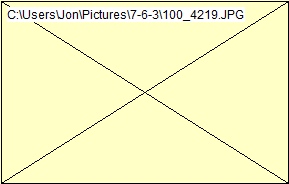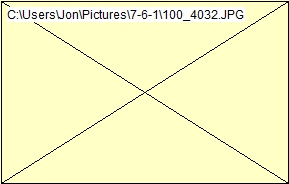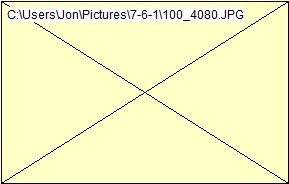 Here's The Newest Formula For Reducing
Germ-Free Room Used For Research
Open Safety Pin Threatens Child's Life
Suffocating Smog Kills 20
Ex-Marine Alive With Bullet In Heart
Ah-Ah-Ah-Choo! - Gesundheit!!
Outstanding Doctor Of The Year
In Birmingham, Ala., Percy Coplon, 53 and weighing 357 pounds, decides on direct action to lose weight. His formula is to stay in a hut atop a pole (right) without food for 100 days. He is reported to have said that "even thinking about food drives me nuts", so for 100 days he'll live on salts and water.
A worker in the new germ-free laboratory at the University of Notre Dame. enters the sealed room after being submerged in an antiseptic solution which kills all germs on his diving suit, helmet, gloves, etc. A colony of animals, also germ-free, is being raised here for research in heart disease, tooth decay, and possibly cancer.
In a Newark, N.J. hospital, week-old Janet Mae Richards sleeps trussed up like this because doctors discovered she had a broken left thigh bone apparently suffered prior to birth. Both legs are suspended to distribute her weight evenly.

Four-year-old Helen Hance of Tolleson, Arizona, who swallowed an open safety pin which lodged in her alimentary canal, as shown on X-ray photo, left, listens intently to X-ray technician D.B. Gordon try to comfort her after the accident. If complications set in, her life
will be endangered.
This is the main business section of Donora, Pennsylvania, where 20 persons are reported dead from the effects of a mysterious blanket of smog which hung over the town for four days, as shown in photo. 200 persons required medical treatment after inhaling the fog-like vapor.
An ex-Marine war hero of Columbus, 0., who wants to remain nameless, was hit by a Jap bullet during the war. X-ray photo, right, shows it lodged in his heart where it moves up and down as the heart expands and contracts. He lives a normal, active life, and it is believed an operation would be a gamble with death.
Michael Hippisley, 14, sneezed 134,000 times in eight days after having his first attack in the London, England, school he attends. Doctors say the abnormal sneezing was caused by pollen. Picture shows Mike in one of his once-every-three-seconds snorts.

Dr. Andy Hall, 85, of Mount Vemon, III., is named the outstanding practitioner of the year by the American Medical Association at its meeting in Washington, D.C. Picture shows the "Doc" giving a couple of youngsters a check-up, the same as he's been doing for
over 50 years.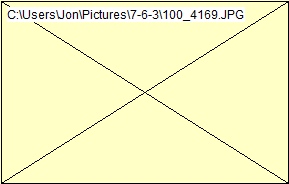 3-Year_Old Gets Complete
Set Of False Teeth
Ronald Adamiack, Milwaukee, Wisc., is the proud possessor of a brand new set of uppers and lowers, made necessary by a decaying condition which his dentist says will require Ronald to have several pairs of false teeth before his permanent teeth come in.
Beside each stock number is the available quantity of this original poster.