Historical Art PhotoNews Posters
Circa 1946 - 1952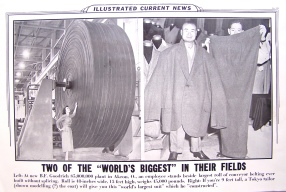 Two Of The "World's Biggest"
In Their Field
Six GAR Vets Attend Last Encampment
Left: At new
B.F. Goodrich
$5,000,000 plant in Akron, 0., an employee
stands beside largest roll of conveyor belting ever built without splicing.
Roll is 48-inches wide, 15 feet high, weighs 45,000 pounds. Right: If you're 9 feet tall, a
Tokyo tailor
(shown modeling (?) the coat) will give you this
"world's largest suit" which he "constructed".
With only 16 members still live, six Grand Army ofthe Republic veterans meet in their final convention in Indianapolis. L. to R. Theodore A. Penland National Commander; Charles L. Chappel, 102; Albert Woolson 102, Joseph Clovese, 105; Robert Barrett, 102, and James A. Hard.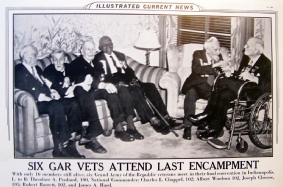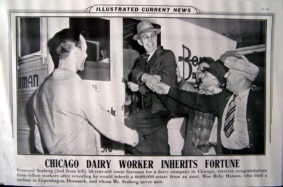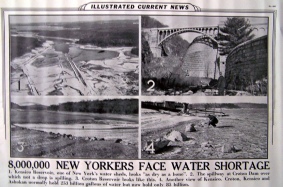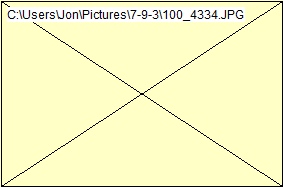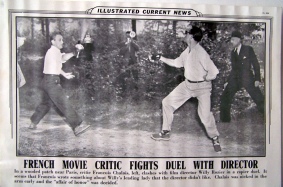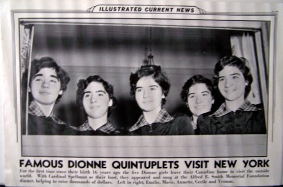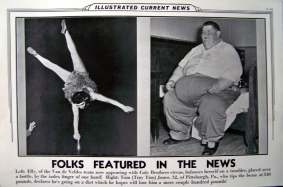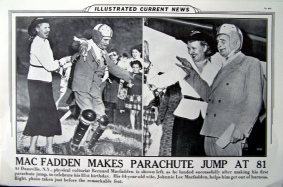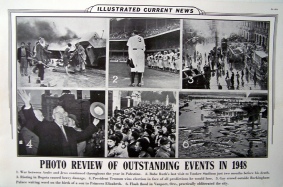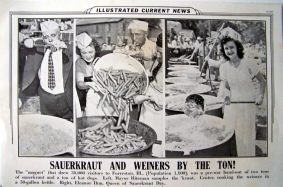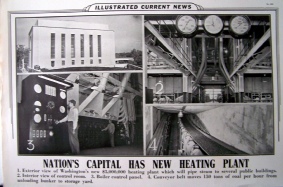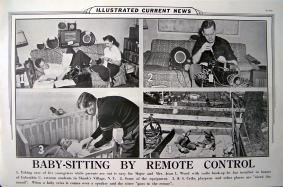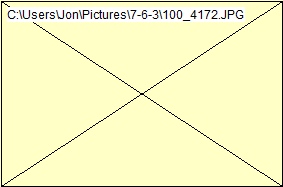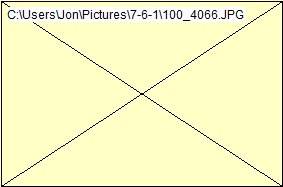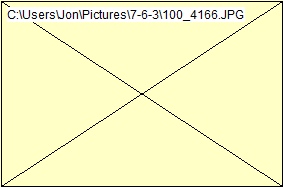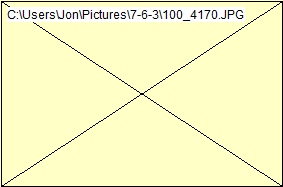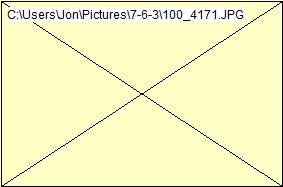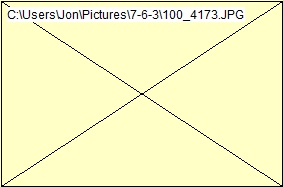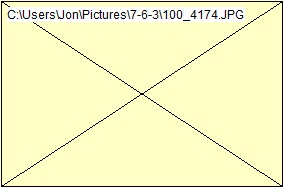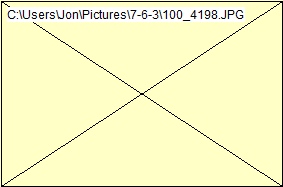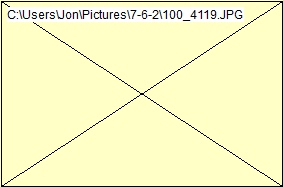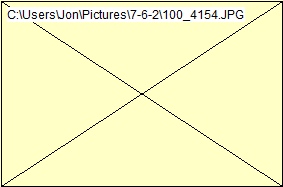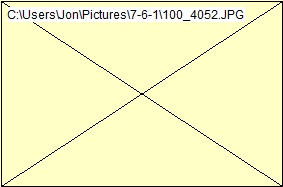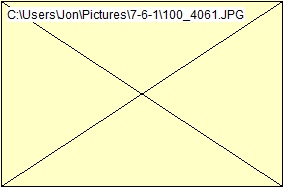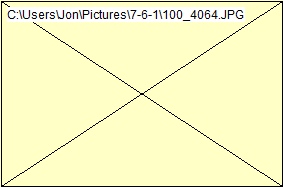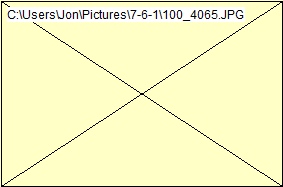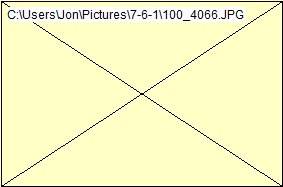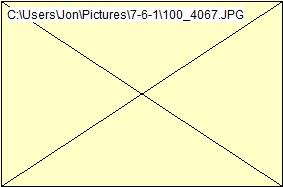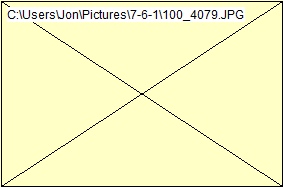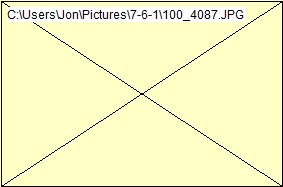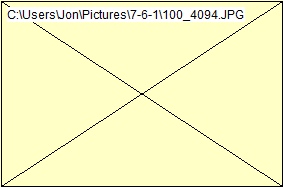 Chicago Dairy Worker Inherits Fortune
Named 10 Greatest Men Of Century
French Director Critic
Fights Duel With Director
Famous Dionne Quintuplets
Visit New York
Folks Featured In The News
MacFadden Makes Parachute Jump At 81
Photo Review Of
Outstanding Events In 1948
Sauerkraut & Weiner By The Ton!
Nation's Capital Has New Heating Plant
Baby-Sitting By Remote Control
Twins Born To Twin Sisters
History Making Events in 1947
May Offer Quadruplets For Adoption
Quads Born On Peanut Farm
Twins, Twins And Still More Twins!
Quadruplets Born To Bronx, N.Y., Mother
Paint House For Vet In 2 Min. 32 Seconds
Justice Douglass Named
"Father Of The Year"
You Can Get Almost Anything
From A Coin Machine
Two Great Industrial Families Joined
News-Making Events of 1949
Review Of Big News Events Of 1946
Photo-Review Of
Outstanding Events In 1950
Fabulous Hope Diamond
Bought By N.Y. Jeweler
Water Shortage Hits Eastern Area
Gunnard Seaberg (2nd from left) 58-year-old route foreman for a dairy company in Chicago, receives congratulations from fellow workers after revealing he would inherit a $600,000 estate from an aunt, Miss Heby Hansen, who died a recluse in Copenhagen, Denmark, and whom Mr. Seaberg never met.
1. Kensico Reservoir. one of New York's water sheds. looks "as dry as a bone". 2. The spillway at Croton Dam over which not a drop is spilling. 3. Croton Reservoir looks like this. 4. Another view of Kensico, Croton, Kensico and Ashokan normally hold 253 billion gallons of water but now hold only 85 billion.
The nation's leading newspaper and radio editors vote these men as making the greatest impact on the world in the first half of this century. Above: I. to r., Roosevelt, Churchill, Ford, Edison, and Stalin. Below: I. to r., Hitler, Orville Wright, Wilbur Wright, Lenin and Einstein.
In a wooded patch near Paris, critic Francois Chalais, left clashes with film director Willy Rozier in a rapier duel. It seems that Francois wrote something about Willy's leading lady that the director didn't like. Chalais was nicked in arm early and the "affair of honor"
was decided.
For the first time since their birth 16 years ago the five Dionne girls leave their Canadian home to visit the outside world. With Cardinal Spellman as their host, they appeared and sang at the Alfred E. Smith Memorial Foundation dinner, helping to raise thousands of dollars. Left to right; Emilie, Marie, Annette, Cecile, and Yvonne.
Left: EIIy, of the Van de Veldes team now appearing with Cole Brothers circus, balances herself on a tumbler, placed over a bottle, bu the index finger of one hand! -RIght: Tom (Tiny Tim( Jones, 32, of Pittsburgh, Pa., who tips the beam at 540 pounds, declares he's going on a diet which he hopes will lose him a mere couple
hundred pounds!
N. Dansville, N.Y., physical culturist Bemard Macfadden is shown left, as he landed successfully after making his first parachute jump, to celebrate his 81st birthday: His,44-year-old wife, Johnnie Lee Macfadden, helps him get out of hamess. Right, photo taken just before the remarkable feat.
1. War between Arabs and Jews continued throughout the year in Palestine. 2. Babe Ruth's last visit to Yankee Stadium just two months before his death.
The "magnet" that drew 30,000 visitors to Forreston, III., (Population 1,100), was a pre-war hand-out of two tons of sauerkraut and a ton of hot dogs. Left, Mayor Hiteman samples the 'kraut. Center, cooking the wieners in a 50-gallon kettle. Right, Eleanor Ihm, Queen of Sauerkraut Day.
1. Exterior view of Washington's new $5,000,000 heating plant which will pip steam to several public buildings. 2. Interior view of control room. 3. Boiler control panel. 4. Conveyor belt moves 150 tons of coal per hour from unloading bunker to storage yard.
1. Taking care of five youngsters while parents are out is easy for Major and Mrs. Jean L. Wood with radio hook-up he has installed in homes of Columbia U. veteran students in Shank's Village, N.Y. 2. Some of the equipment. 3. & 4. Cribs, playpens and other places are "wired for sound". When a baby cries it comes over a speaker and the sitter "goes to the rescue".
Twin sisters, Mrs. Austin Karr, left, and Mrs. Oal Bee Nichold, both of Tulsa, Okla., gave birth to twins, a son and a daughter each, on the same day, in the same hospital, attended by the same physician. Center: Mrs. Walter Breshers, the babies' Grandma, is all smiles over the event.
1. British troops bar Jewish refugees in attempted Palestine landing. 2. Gen. Geo. C. Marshall sworn as U.S. Sec. of State.
Ellis Amall (center, upraised arm) carries on as Governor in the capitol's rotunda, having refused to turn over the office to Herman Talmadge, named Governor by the state legislature when his duly-elected father died before assuming the office. The dual governorship is now in the hands of the state's high court.
Ozzie Hargreaves and his wife, of Sault Ste. Marie, Ont., say they may have to offer their 5-month-old quads for adoption because his job as a laborer doesn't earn him enough to support the four little girl babies. The
Hargreaves have two other children.

Mrs. Virginia Singleton (extreme right) and three nurses hold the foursome born to Mrs. Singleton and her husband Homer on their peanut farm in Perote, Alabama. The tiny tots were rushed to a hospital in Eufaula, Ala., and placed ion incubators.
These ten sets of twins keep life interesting at St. John Berchman's school in Detroit with their constant flow of "double talk". Top, I. to r., their sumames are Zanina, Rabaul, Jordon, Moeller. Center, I. to r., Schulte, Brogan and Pergeau. Bottom, I. to r., the twins are named
Hildebrandt, Powell and Gardella.
What happens once in about 750,000 births happened in Lebanon Hospital, N.Y.C., when Mrs. Ethel Collins, 27, wife of a brokerage firm clerk, gave birth to quadruplets, - two boys and two girls. Nurses hold the boys, and the two girls can be see in the incubator, with Dr. Herbert Vogel in the background.
1. Houston, Texas, boasts the "last word" in shopping comfort, the "Relax'n Shop". 2. All the major items in the store are placed on a continuous conveyor belt and pass in front of the housewife as she sits in comfort, with the youngster beside her, and picks off what she wants, puts it on another conveyor belt above, which takes the purchases to the cashier's desk (3).
Robert Hoelzle, of New Brunswick, N.J., who lost the use of his legs on Okinawa, watches with his fiancee as 96 members of the local painters' union paint his house in world's record time. The labor and material for the "Dream House" were donated by the townspeople.
U.S. Supreme Court Justice William O. Douglas, chosen for the 1950 award by the National Father's Day Committee for his work in exemplifying the Committee's theme, "For a safe world tomorrow, teach democracy today", receives a cake from the Girl Scouts of America at a luncheon in his honor in New York.
Amusement and vending machines automatically operated by coins do better than a billion dollar business yearly! Newest are: ,. Drop-kicking machine that records yardage. 2. Getting vacation tan at the comer drug store for a dime. 3. Coin operated shuffle board, popular in lodges and clubs.
At Akron, Ohio, the bridal party poses for pictures following marriage of Martha Parke Firestone to William Clay Ford. L. to r., Henry Ford II, best man; Miss Elizabeth Firestone, maid of honor; Mrs. Edsel Ford, groom's mother; bride and groom; Mr. and Mrs. Harvey S. Firestone, bride's parents
1. Charles Collins carries wife Ethel, mother of quadruplets, into new Bronx, N.Y., home provided by admiring neighbors. 2. Jack Delinger, 22, Oakland, Cal., is new "Mr. America", defeating 40 Adonises at Cleveland contest. 3. Gen. Jonathan M. Wainwright, hero of Corregidor, attends a disabled Veterans parade at Loveland, Colo.
Some of the outstanding happenings which aroused the nation's interest in 1949: 1. Cardinal Mindzenty, sentenced to life imprisonment in Budapest, leading to break between Catholics and Communists.

Continue Reading Here
1. First atom bomb experiment at Bikini Atoll. 2. Second atom bomb experiment on 73 ships in Bikini Lagoon.
1. Entrance of Chinese Communist Army in Korea fighting forces U.S. troops to retreat. 2. Giant Navy plane "Marshall Mars" mysteriously explodes
near Honolulu.

Helping Mr. and Mrs. Albert Fox (center, bottom row) of Brosius, West Va., celebrate their golden wedding anniversary, were 11 of their own 12 children with their mates; 48 grandchildren, and 10 great-grand-children. (Can you imagine Mr. Fox at Christmas time?)

Left: Here's what more than $1,000,000 worth of jewels look like. They include the so-called "unlucky" Hope Diamond (on bust at left) and the Star of the East (on bust at right). The collection, owned by the late Evalyn Walsh McLean, was bought by Harry Winston, N.Y. jewel merchant. Right: Model wears both gems during public exhibit.
The long summer and fall dry spell in the East has resulted in a scarcity of water from normal sources of supply in New Jersey and New York. Picture shows residents of Roosevelt, N.J., getting their daily ration of water from an army mobile water tank serving in the emergency.
8,000,000 New Yorkers
Face Water Shortage
Beside each stock number is the available quantity of this original poster.
Georgia Has Double Governor Trouble
Housewives Shop Sitting Down
Mourns Wife's Death With Neon Lights
Broadway's New Million Watt Sign
Ladies In The News Headlines
Shorn Wife Gets New Head Of Hair
Roy L. Acklin, St. Petersburg, Fla., mail carrier, looks at a picture of his dead wife as he stands beside her casket in an unusual tomb in a local cemetery. Her name, Beulah, is in neon lights, and at left is registration desk were 1800 visitors have signed their respects.
The largest sign on Broadway, New York City, located atop the Bond Building along the Great White Way is lit up for the first time. The figures at left and right are five stories high. The traveling message in the circle is 200 feet long and below that is a waterfall 132 feet high.
1, Dorothy Kenyon, former American U.N. delegate, denies she has Communist connections as charged by Sen. McCarthy, Wisc. 2. Lora Lee Michel admits she fibbed story of being starved by foster parents
"to keep her little for the movies". 3. Gorgeous Gussie Moran, who startled Cairo tennis fans by appearing in black shorts.
Rosalie Bruce, whose husband is charged with cutting off her hair to stop other men from admiring her, gets a wig from the famous movie makeup man, Max Factor, which makes her look (right) more beautiful than ever. In picture, left, Fred Fredericks, hair stylist, holds the hair which Mrs. Bruce lost.