Historical Art PhotoNews Posters
Circa 1946 - 1952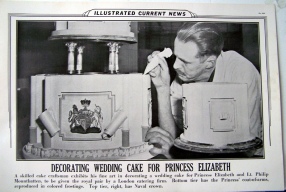 Decorating Wedding Cake
For Princess Elizabeth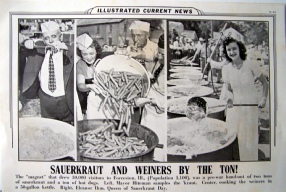 A skilled cake craftsman exhibits his fine art in decorating a wedding cake for Princess Elizabeth and U. Philip Mountbatten. to be given the royal pair by a London catering firm. Bottom tier has the Princess' coat-of-arms. reproduced in colored frostings. Top tier. right. has Naval crown.
The "magnet" that drew 30,000 visitors to Forreston, III., (Population 1,100), was a pre-war hand-out of two tons of sauerkraut and a ton of hot dogs. Left, Mayor Hiteman samples the 'kraut. Center, cooking the wieners in a 50-gallon kettle. Right, Eleanor Ihm, Queen of Sauerkraut Day.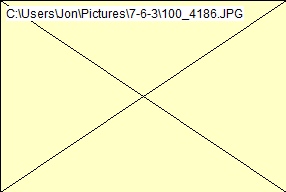 Huge 5 fool by 2 foot cake bearing a replica of the "Pioneer", the first locomotive to run west of Chicago, is shown being fashioned by chefs of the Hotel Stevens for presentation to Chicago and Northwestern RR vice president Carl R Gray, Jr., new U.S. Veterans Administrator.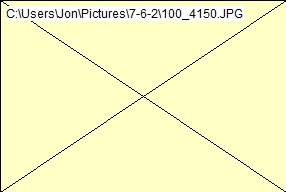 Windsor, Ont., Canada - Far more fortunate than her American cousins, this Canadian housewife has only to produce 'her ration book and money in order to get meat for her table. American women would cry for joy at the sight of the huge beef roast being weighed in a Windsor supermarket. Meat in Canada is rationed, but plentiful.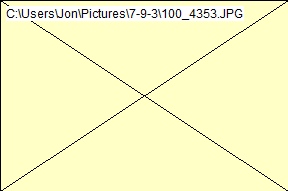 Winners in the Pillsbury Grand National Bake-off, held in New York, are shown receiving their prizes from the Duchess of Windsor. L. to r., Mrs. Bernard Derousseau, Rice Lake, Wise., winner of $5,000; Mrs. Peter Wuebel, Redwood City, Calif., whose "Kiss Me Cake" won 25,000; the Duchess, and P.W. Pillsbury, president of Pillsbury Mills.