Historical Art PhotoNews Posters
Circa 1946 - 1952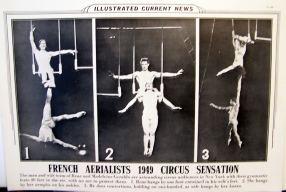 French Aerialists 1949 Circus Sensation
"Right This Way Folks For
The Biggest Show on Earth"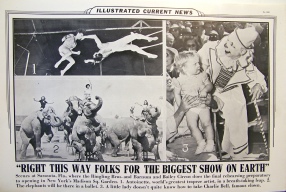 The man and wife team of Rene and Madeleine Geraldo are astounding circus audiences in New York with their gymnastic feats 40 feet in the air, with no net to protect them. 1. Rene hangs by one foot entwined in his wife's feet. 2. She hangs by her armpits on his ankles.
3. He does contortions, holding on one-handed,
as wife hangs by her knees.
Scenes at Sarasota, Fla., where the Ringling Bros. and Barnum and Bailey Circus does the final rehearsing preparatory to opening in New York's Madison Sq. Garden. 1. Antoinette, the world's greatest trapeze artist, in a breath-taking leap. 2. The elephants will be there in a ballet. 3. A little lady doesn't know how to take
Charlie Bell, famous clown.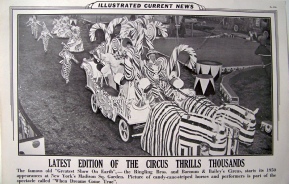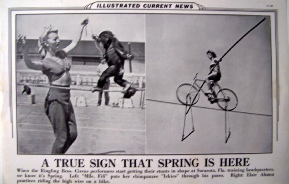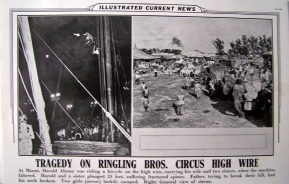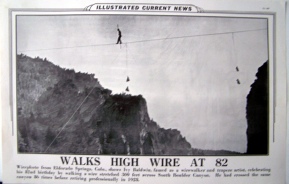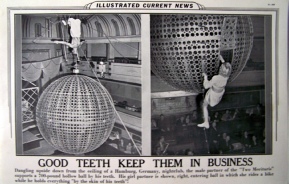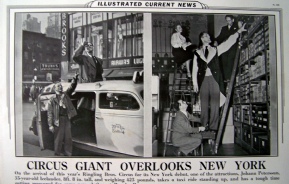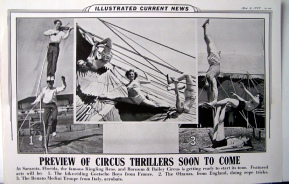 Latest Edition Of The
Circus Thrills Thousands
A True Sign That Spring Is Here
Tragedy On Ringling Bros. Circus High Wire
Circus Balance Artist Defies Gravity
Good Teeth Keep Them In Business
Circus Giant Overlooks New York
Preview Of Circus Thrillers Soon To Come
The famous old "Greatest Show On Earth", the Ringling Bros. and Barnum & Bailey's Circus, starts its 1950 appearances at New York's Madison Sq. Garden. Picture of candy-cane-striped horses and performers is part of the spectacle called "When Dreams Come True".
When the Ringling Bros. Circus performers start getting their stunts in shape at Sarasota, Fla. training headquarters, we know it's Spring. Left: "Mlle. Fifi" puts her chimpanzee "Ickies" through his paces. Right: Elsie Alzana practices riding the high wire on a bike.
At Miami, Harold Aizana was riding a bicycle on the high wire, carrying his wife and two sisters, when the machine faltered. Harold and a sister plunged 35 feet, suffering fractured spines. Father, trying to break their fall, had his neck broken. Two girls (arrow) luckily escaped. Right: General view of circus.
Wirephoto from Eldorado Springs, Colo., shows Ivy Baldwin, famed as a wire-walker and trapeze artist, celebrating his 82nd birthday by walking a wire
stretched 300 feet across South Boulder Canyon.
He had crossed the same canyon 86 times before
retiring professionally in 1928.
"The Great Unus", balancing marvel with the Ringling Bros. Circus now at Madison Square Garden, New York, thrills the crowds with his gravity defying stunts. Left: He spins rings while using cane to balance himself on a glass ball. Right: Balancing himself on the index finger of one hand!
Dangling upside down from the ceiling of a Hamburg, Germany, nightclub, the male partner of the "Two Morituris" supports a 700-pound hollow ball by his teeth. His girl partner is shown, right, entering the ball
in which she rides a bike while he holds everything
"by the skin of his teeth"!
On the arrival of this year's Ringling Bros. Circus for its New York debut, one of the attractions, Johann Peterssun, 35-year-old Icelander, 8ft. 8 in. tall, and weighing 425 pounds, takes a taxi ride standing up,
and has a tough time getting measured for some
new

At Sarasota, Florida, the famous Ringling Bros. and Barnum and Bailey Circus is getting ready to start its tour. Featured acts will be: 1. The bike-riding Goetsche Boys from France. 2. The Olzanas, from England, doing rope tricks. 3. The Renata Medini Troupe from Italy, acrobats.
Beside each stock number is the available quantity of this original poster.
Folks Featured In The News
Left: EIIy, of the Van de Veldes team now appearing with Cole Brothers circus, balances herself on a tumbler, placed over a bottle, bu the index finger of one hand!
-RIght: Tom (Tiny Tim( Jones, 32, of Pittsburgh, Pa., who tips the beam at 540 pounds, declares he's going on a diet which he hopes will lose him a mere couple hundred pounds!