Historical Art PhotoNews Posters
Circa 1946 - 1952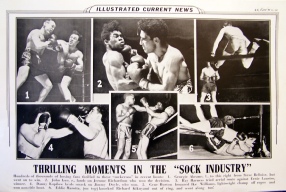 Thrilling Moments In The "Sock Industry"
Louis In Final Training For Return Bout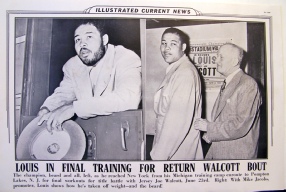 Hundred of thousands of boxing fans thrilled to the "sockeroos" in recent bouts:

Read Full Text Here
The champion, beard and all, left, as he reached New York from his Michigan training camp en route to Pompton Lakes, N.J. for final workouts for title battle with Jersey Joe Walcott, June 23rd. Right: With Mike Jacobs, promoter, Louis shows how he's taken off weight - and the beard!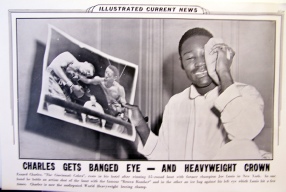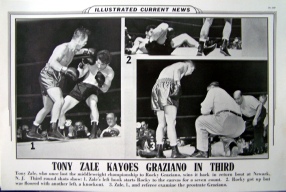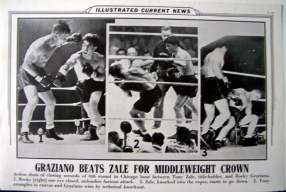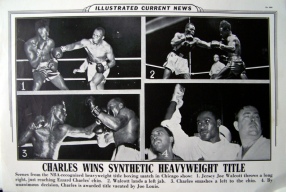 Tony Zale Kayoes Graziano In Third
Charles Gets Banged Eyes
And Heavyweight Crown
Graziano Beats Zale For Middleweight Crown
Charles Wins Synthetic Heavyweight Title
Ezzard Charles, "The Cincinnati Cobra", rests in his hotel after winning 15 round bout with former champion Joe Louis in New York. In one hand he holds an action shot of the bout with the famous "Brown Bomber" and in the other an ice bag against his left eye which Louis hit a few times. Charles is now the undisputed World
Tony Zale, who once lost the middleweight championship to Rocky Graziano, wins it back in return bout at Newark, N.J. Third round shots show: 1. Zale's left hook starts Rocy to the canvas for a seven count. 2. Rocky got up but was floored with another left, a knockout. 3. Zale, I., and referee examine the prostrate Graziano.
Action shots of closing seconds of 6th round in Chicago bout between Tony Zale, title-holder, and Rocky Graziano. 1. Rocky (right) one eye closed, unleashes furious attack. 2. Zale, knocked into the ropes, starts to go down. 3. Tony crumples to canvas and Graziano wins by technical knockout.
Scenes from the NBA-recognized heavyweight title boxing match in Chicago show: 1. Jersey Joe Walcott throws a long right, just reaching Ezzard Charles' chin. 2. Walcott lands a left jab. 3. Charles smashes a left to the chin. 4. By unanimous decision, Charles is awarded title vacated by Joe Louis.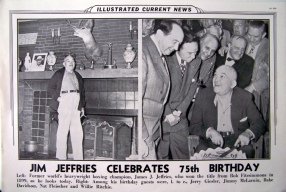 Lewis Still Tough Opponent After 10 Years
Jim Jeffries Celebrates 75th Birthday
Left: Joe Louis in 1937, when he defeated Jim Braddock for the World's Heavyweight boxing crown at the age of 23. Right: Louis today, pictured at Pompton Lakes, N.J., where he is training for December 5th match with Joe Walcott in N.Y. Garden, hasn't changed much in looks or physical condition.
Left: Former world's heavyweight boxing champion, James J. Jeffries, who won the title from Bob Fitzsimmons in 1899, as he looks today. Right: Among his birthday guests were, I. to e., Jerry Giesler, Jimmy McLamin. Babe Davidson, Nat Fleischer and
Willie Ritchie.
Closing Seconds Of Louis-Walcott Bout
This is how the end came to Joe Walcott's championship hopes as Joe Louis defended his heavyweight crown for the 25th time in the Yankee Stadium, N.Y. L. to r.: top to bottom: Walcott pokes a left; Louis winds up with a right; Walcott goes down, rolls over, is counted out, and led to comer by referee Frank Fullam.
Beside each stock number is the available quantity of this original poster.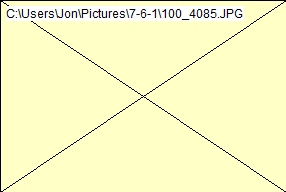 Hollywood - When Jack Dempsey (behind wheel), was in his old trade as the Manassa Mauler, the people whom he got close to while doing business looked nothing like Ellye Marshall. But it's strictly business now, because Dempsey is a movie mogul, and his first production, "The Big Wheel: about auto racing, stars Mickey Rooney, on the racing car.